Shop > Paintings by Vanessa Newell > Watercolour paintings > Flower paintings in watercolour
Flower paintings in watercolour
Unique item - made to order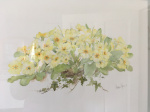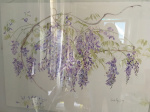 Vanessa is well known for her original, botanical watercolour studies depicting flowers throughout the seasons.

She grows flowers in her garden to paint throughout the year.

Poppies are a favourite as are Wisteria, with their bowers of scented flowers, entwined woody stems and delicate tendrils.
Not forgetting the Delphiniums, with their delicate blue mauve petals on upright stems.

She tries to capture the essence of the flowers with watery brushstrokes of fresh colours.

Vanessa accepts commissions for paintings.

She has recently had exhibitions and sold her work at Kendalls Fine Arts in Cowes.

Prices depend upon the amount of work which is included in each painting and prices start from £250 for A1 an sized painting, that is unframed.