Shop > Paintings by Vanessa Newell > Watercolour paintings > Lobsters & Crustacea watercolours
Lobsters & Crustacea watercolours
Unique item - made to order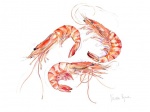 These detailed original watercolour paintings of crustacea are by Vanessa Newell.

She draws her inspiration from the beautiful Isle of Wight countryside and beaches. From initial detailed observational drawings, she produces amazingly accurate colourful watercolour studies.

The blue Lobsters found in the waters off the back of the island, in the Channel, on the chalky bottom are especially exciting to paint. Along with the handsome Bembridge Crabs.

Velvet back swimming crabs, pink prawns, stripey grey prawns and little fish are also a source of inspiration and are painted in small groups.

The images are painted on Arches watercolour paper and are approximately 50cm x 40cm.

The paintings are unframed.

The Lobsters paintings are approximately £300, the Crabs are approximately £225 and the three Prawns are approximately £180.

Vanessa would be delighted to discuss commissions.