Shop > Kit Bags > 2 GBR Sailcloth Kit Bag Range
2 GBR Sailcloth Kit Bag Range
From £135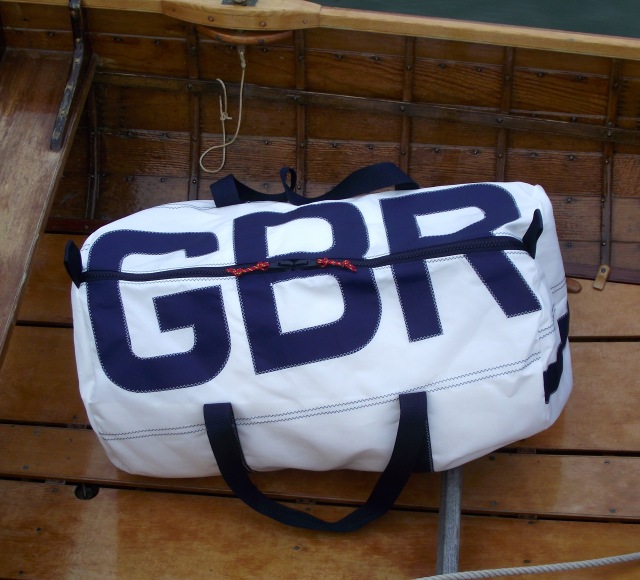 The letters GBR are included above the sail numbers on racing sails used on yachts and dinghies representing Great Britain.

We cut out the letters in navy blue sailcloth by hand and sew them on across the top of the bags with traditional sailmakers zigzag stitch using U.V. resistant sailmakers thread.

The bags are made from excellent quality new white sailcloth and are available in medium and large sizes.

Navy blue webbing handles are sewn on right around the bags for strength and the six internal pockets add reinforcement. There are three large pockets on either side of the bag.

All of the seams are triple stitched with U.V. resistant sailmakers thread.

The sailcloth edges are heat sealed which prevent them from fraying.

We add a chunky robust navy blue and slider with colourful pull cord. On the large and extra large sizes we add two zip sliders with pull cords to allow easy access to both ends of the bags.

An extra layer of navy blue acrylic canvas is added to the base of the kit bags to add protection and durability.

There is a wash bag available with GBR sewn on, found under wash bags, - please note it does not have a double base or pockets.

With their nautical style the kitbags have universal appeal and are popular with both boys and girls of all ages.

They are great for weekends away, holidays, sailing the seven seas or taking to sporting events.


Dimensions:
Wash Bag 26cm length x 16cm diameter. 5.0 litres approx.
Small Kit Bag: 50cm length x 25cm diameter. 24 litres approx
Medium Kit Bag: 50cm length x 32cm diameter. 40 litres approx.
Large Kit Bag: 60cm length x 38cm diameter. 68 litres approx.
Extra Large Kit Bag: 70cm length x 45cm diameter. 111 litres approx.
| | | |
| --- | --- | --- |
| Medium Kit Bag | | £135 |
| Large Kit Bag | | £155 |