Shop > Cushions > 2 St Ives Cushions
2 St Ives Cushions
£98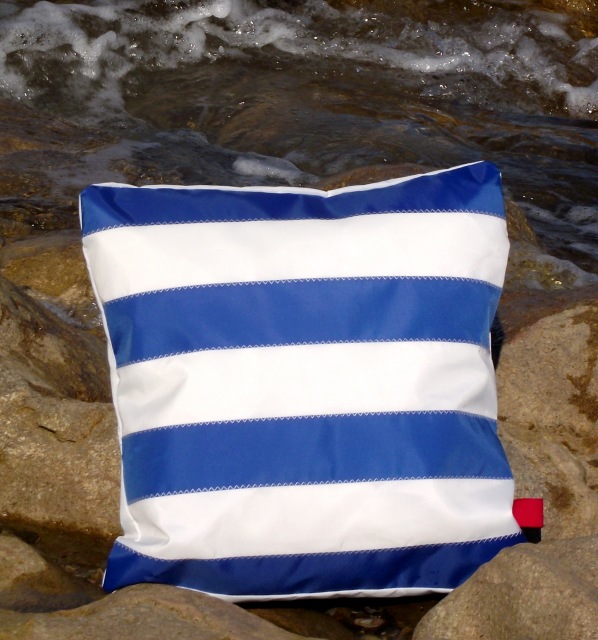 St Ives in Cornwall, was the inspiration for our striped sailcloth cushion, shown here in classic blue and white colours.

If you love seaside living and decorate your home with the coastal style this cushion will appeal. With their simple stylish good looks they are popular presents for both men and women, who will find they compliment most colour schemes. Children will also love them in their bedrooms. They are ideal for living rooms, conservatories, kitchens and studies, just about anywhere!

The coloured stripes are cut out by hand and sewn onto new white sailcloth, using traditional sailmakers zigzag thread. Stitching throughout is done with U.V. treated thread.

The sailcloth cover can be easily washed, and will dry in an instance.

The blue and white colours, so reminiscent of the sea and the surf in Cornwall is very popular. We also offer you the choice of red and white stripes, navy and white stripes, pink and white stripes, green and white stripes, black and white stripes, turquoise blue and white stripes, pale blue and white stripes or grey and white stripes.

They look great having several cushions in different colourways placed together!

Made from:
Cushion cover 100% polyester sailcloth.

Cushion pad is Made from polyester. It is removeable through an envelope at the back.

Care instructions:

Wash gently at 30 degrees with eco-friendly washing liquid. Rinse. dry naturally. Do not add bleach, do not dry clean and do not tumble dry.

Dimensions:
43 x 43cms approx.