Shop > Cushions > 6d Racing Yachts
6d Racing Yachts
£98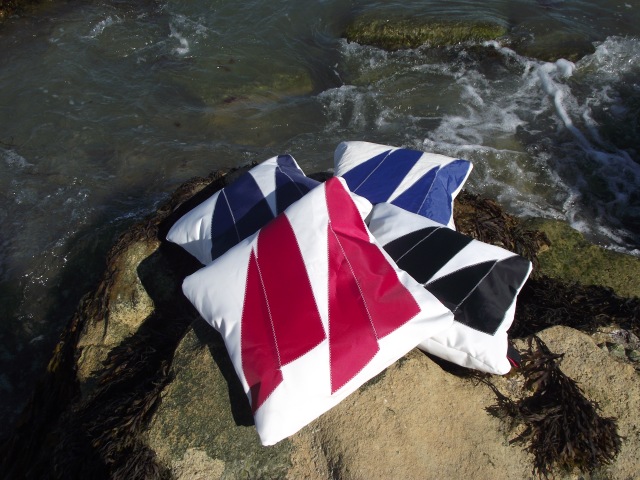 These beautiful designs are based on the elegant Redwing class yachts that sail from Bembridge on the Isle of Wight. Redwings have dark red sails with a very high aspect ratio, making them very noticeable in the Solent and in Cowes Week.

Paul's sail drawings have been the inspiration for these cushion designs, depicting two yachts that are Match Racing.

You can choose your sails from 7 different colourways for either boat: red, mid blue, navy blue, black, grey, fluorescent pink or fluorescent orange.

The white cushion covers are made from new top quality soft sailcloth.

The sail shapes are cut out by hand and then stitched on with traditional sailmakers zigzag stitch with U.V. resistant sailmakers thread.

The inner cushion pad is removable by an envelope opening at the back of the cushion. It is made from polyester fibres and meets British standards.

They are very popular with sailors and they look stunning in a coastal inspired room or conservatory.

Imagine, you can have your own fleet of yachts racing on your sofa with 3 cushions! Sail into summer, dreaming of blue seas and sandy beaches.

Dimensions: 43cm x 43cm approx.

Care instructions:
Hand wash at 30 degrees centigrade with eco friendly washing powder, shape and dry naturally.
Please do not be tempted add bleach, do not tumble dry and do not dry clean.

Please follow washing instructions attached to the cushion pad.