Shop > Kit Bag sizes > Kit Bag sizes
Kit Bag sizes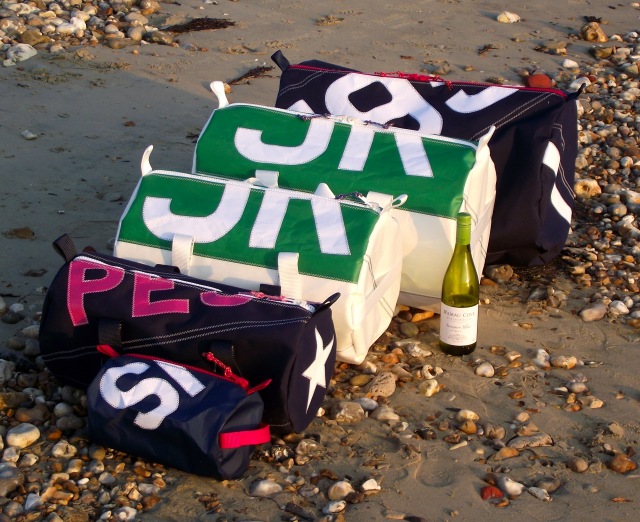 We are often asked "How big are the bags?"

It's a hard question to answer over the phone (a bit like trying to describe a colour) and we appreciate that it is not always possible to gauge the sizes from our photographs so we have put some of the bags together as a guide.

Here we show most of the range from the Wash bag, through the Small kit bag, the Medium kit bag and the Large kit bags to the Extra Large kit bag. We have added a bottle of wine to give some sort of perspective.

The Wash bag has been used from the obvious toiletries through to tool bags and pencil cases.

We have found that the Small and Medium kit bags are accepted on most airlines (as long as the medium bag is not over stuffed) as cabin baggage.

The Small, Medium and Medium Long kit bags make good over night bags, depending upon ones clothing size.
I use a Medium kit bag to carry my off-shore foul weather gear (high fit trousers, jacket, size 10 boots and life jacket plus a change of underwear stuffed into the boots). Most of my gear is extra large and it is a bit of a squeeze to get it all in. I ought really to use a medium long.

The Large and Large Long kit bags are good for extended trips away when you need a reasonable change of cloths to hand

The Extra Large, when stuffed, weighs about the maximum that can go as airline hold luggage (23kgs). It's also about the maximum weight you'd want to carry too unless your carrying light weight bulky items like fleeces, duvets, sleeping bags and/or cushions.
Please be aware that this bag is BIG and, when full, heavy.

Below are the approximate dimensions.

Wash Bag: 26 cm length x 16cm diameter. 5liters approx.
Small: 50cm length x 25cm diameter. 24 litres approx.
Medium: 50cm length x 32cm diameter. 40 litres approx.
Large: 60cm length x 38cm diameter. 68 litres approx.
Extra large: 70cm length x 45cm diameter. 111 litres approx.

There are also two other sizes, not shown in the photo's, that are available in some of the ranges.
They are:
Medium Long: 60cm length x 32cm diameter. 48 litres approx. (The diameter of the medium and the length of the large)
Large Long: 70cm length x 38cm diameter. 80 litres approx. (The diameter of the large and the length of the extra large).
These two bags sizes bridge the gap between the medium & large kit bags and the large & extra large kit bags respectively and are useful if your carrying something a little longer that usual.

We can, if you need to carry something extra long, make Medium Super Long and Large Super Long kit bags. Both of these bags would be an extra 10cm longer than the medium long and large long respectively. Please get in touch if you have something particular in mind and we can quote you the price.
We don't show these two bags in the price list. They would be specials made, just for you.

We hope this is of some help. If you are still not sure which size suites you need then please give us a call or send us an email, we're always pleased to help.