Shop > Personalised Cushions > Personalised Sailcloth International Signal Flag cushions
Personalised Sailcloth International Signal Flag cushions
£78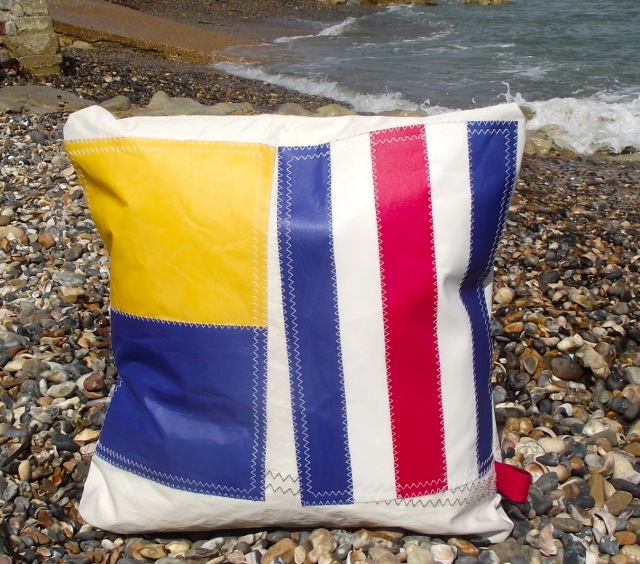 Personalised International Signal/Code and pennant flag cushions, made in sailcloth, are popular with both sailors and land lovers who want to send a message or convey a statement. They are a real talking point.

The square cushion is 45cm x 45cm approx.

The flags are made by ourselves in sailcloth, and sewn onto the white sailcloth cushion front.

They have been admired and enjoyed by those who have commissioned them for special occasions such as wedding presents, anniversaries and birthdays. The chosen flags can represent initials or notable dates or numbers.

We offer you the choice of adding one or two flags on the sailcloth cushion.

They are interesting as the flags convey the phonetic alphabet ie. A - alpha, B - Bravo, C - Charlie and the numeral pennant flags 1, 2, 3, 4 etc.

We cut out the flags from insignia and sailcloth and then we sew them onto the sailcloth cushion cover with traditional sailmakers zigzag stitch.

They can represent a persons initials and the instructions they convey under the Signal code i.e. M - Mike - My vessel is stopped and making no way through the water. The messages are essential on the water but they can take on a different connotation on your sofa or bed.

They look stunning in coastal themed rooms, on decks, on yachts and boats, in boathouses and cabins and homes. They make unique and imaginative presents

We cut out the flag by hand in sailcloth and carefully position them on before sewing them on with traditional sailmakers zigzag stitch using U.V. resistant thread.

We add a navy blue and red loop sewn into the seam, and we sew on our N label on the back of the cushion.

The inner cushion pad is included and it can be removed through an envelope opening on the back. There are no zips or fastenings that could damage your furniture. It is made from polyester and is good quality, complying with British Standards.

Interestingly we first made these personalised International Signal cushions in 2011 when we supplied Made on the Isle of Wight and also made them for our own customers.

Dimensions:
Square cushion 45 x 45cm.

Cushion pad is made in polyester, and washable.

Care instructions:
The cushion cover is hand washable at 30 degrees centigrade using eco-friendly washing liquid. Rinse and dry naturally. Do not dry clean, do not bleach and do not iron.