Shop > Wash Bags > d) Hearts on Wash Bags
d) Hearts on Wash Bags
£52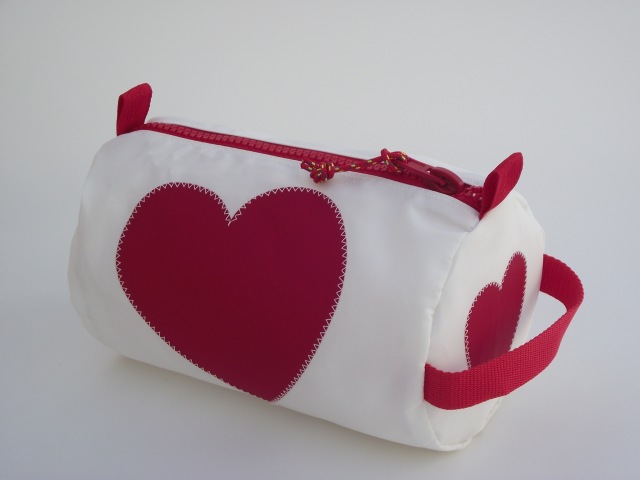 Three plumptious hearts adorn our sailcloth wash bags. There is one on either side of the bag and one at the end.

We offer you a choice of different colour ways. We have the white bag with red hearts and red zip in stock.

We add a chunky, robust coloured zip and slider with coloured pull cord.

The hearts are sewn on with traditional zigzag stitch with U.V. resistant sailmakers thread.

We sew the ends of the bags in with three rows of sticthing.
We will try to use white recycled sailcloth when available, or if unavailable we will use new top quality sailcloth.

The bag is capacious and an ideal size to take with you on your travels, it is also multi-purpose! They make an excellent present for a big hearted person!

An original and chic present for girls.

Measurements:
Length 26cm
Round ends 16cm diameter
Weight 70-100gms

Care instructions: Wash gently at 30 degrees centigrade with eco-friendly washing liquid. Rinse. Dry naturally. Please do not add bleach, do not dry clean and do not tumble dry.